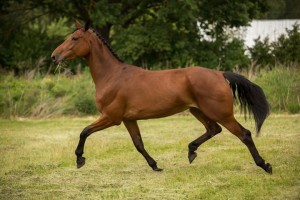 Name: Šalka
Year of birth: 2011
Breed: Latvian Warmblood
Discipline: Showjumping
Height: 172cm
History: Owned by two owners, the second owner is a rider, last two years prepared for showjumping and schooling.
Character: Calm, isn't afraid of noises, isn't getting tense from riders incorrect aids, learning really fast.
Training: Trained by BLR trainer, jumping up to 110cm, has got competition experience in national competitions.
Rider: Suitable for hobby riders, amateurs and children, isn't hard to handle.
Examination: X-rays and vet check is done. 

Pedigree:http://lwhorse.lv/Horses/Card.aspx?id=42640/
If it doesn't work, the alternative – http://zirgudb.lszaa.lv/horses/details/42640
Video: https://www.youtube.com/watch?v=USUQm4zl9ro&feature=youtu.be
https://www.youtube.com/watch?v=LybLvsveV8s
https://www.youtube.com/watch?v=FIVZDjp0-Lk
---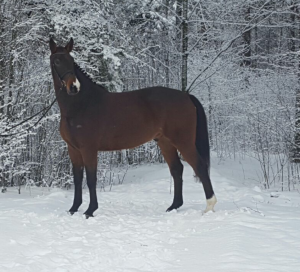 Name: Līderis
Birth of year:2012
Breed: Latvian Warmblood
Discipline: Hobby/Dressage/Showjumping
Height: 172
History: Owned by a breeder from birth, trained by one of the best show jumping adult riders for different disciplines.
Character: Horse is safe for forest rides, isn't spooky, hot or tense. The horse is forgiving and has got bright mind.
Training: Trained up to 100cm. Has got soft trot and canter, it will be a pleasure for riders to work with him as in ordinary training as in dressage and showjumping training.
Rider: Is suitable for amateur riders, hobby riders, and small class dressage riders.
Examination: X-rays and vet check can be done upon prior request.
Pedigree: http://www.lwhorse.lv/Horses/Card.aspx?id=44760
If it doesn't work, the alternative – http://zirgudb.lszaa.lv/horses/details/44760
Video: https://www.youtube.com/watch?v=i0X_glttGZs&t=13s
https://www.youtube.com/watch?v=Bn_xjYmI_K4&t=6s
---